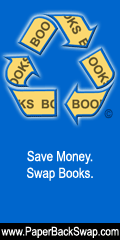 Do you know about Paperback Swap? I love it! Forget about trying to sell your books for 75 cents at half.com. Swap 'em at PB Swap! it's super easy. You just use the ISBN number to list the books you want to swap. When a club member requests your book you just mail it to them. (you pay the media mail shipping) You get a credit for every book you send, and then you get to request books from club members and those will come to YOU for free!
I've been swapping books for over a year now and love it. Almost every book I get is in very good condition. I use the Wish List feature a lot and have gotten several hard-to-find books this way.
Although I can sometimes get books from the library, it isn't always convenient for me to pick them up or return them on time, and I often don't have time to get the book read before the due date. So, PB Swap has been very helpful in getting me the books I want to read but don't want to fiddle with the library for.
You don't just have to trade paperbacks, either. You can also trade hard cover books and audio books. If you don't have many books that you currently want to trade, you can always hit a used book sale on bag day and get a few books to get you started. (You get free book credits just for listing a few books to start with!) You can also buy credits with your paypal money which makes getting books cheaper than half.com too!
Swap a CD works the same way, only it's for music. This is way better than trying to rid yourself of old CDs at a yard sale!