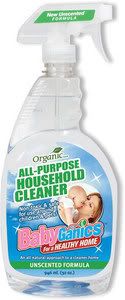 I've enjoyed using various non-toxic and all-natural cleaners in my home for many years. However, the one thing that always bothered me about some of them was that I bought them through multi-level marketing businesses that required me to sign up or pay a yearly membership fee in order to purchase their products. What a drag! Inevitably, I'd run out of my cleaner about a week after my yearly membership was done. Sure, the cleaner was only $12, but I had to pay over $30 to get "in" again. No thanks!
I'm so glad that I found out about BabyGanics. This company features wonderful cleaning products that are safe for people, pets, and the environment. It is non-toxic, organic, and all-natural.
BabyGanics products have
No fillers
No chemicals
No VOCs
No pollutants
and are Non-caustic.
I've been trying out the products in my home for several months now to see if they are any good, and I am happy to say that I can definitely recommend these to you.
There are four different cleaning products available:
All-Purpose Household Cleaner
Glass and Surface Cleaner
Tub and Tile Cleaner
Floor Cleaner Concentrate
All four products come in either unscented or lavender scent. Check 'em out here.